I started writing my travel blog just over 5 years ago. I've worked very hard over the years to improve not only the content of the blog, but also my writing and photographic skills. I don't pretend to blog for a living (I have a regular 9-5 office job high up in a Chicago skyscraper), but I do enjoy writing about my sporadic travels. Today all my hard work was recognized by another fellow travel blogger when Marian Krueger (@travelshopgirl) with her wonderful TravelShopGirl blog which I have read for some time, nominated me for the The Sisterhood of the World Blogging Award. WOW! I'm floating on cloud nine right now! Snoopy dance!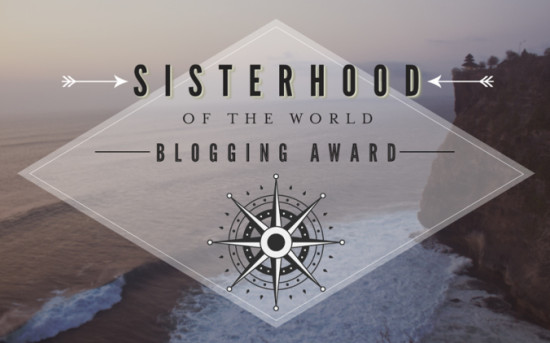 What is The Sisterhood of the World Blogging Award you ask. To me, it's a kind of pay-it-forward, meet-and-greet your fellow bloggers. Word-of-mouth through social media is a great way to network your blog, and this award allows me (and other nominees) to pay-it-forward by recognizing other female bloggers who have worked hard to cultivate their website.
However, you can't just rest on your laurels. There are five rules associated with accepting the award:
1. Mention the blogger who nominated you (thanks, Marian)
2. Answer the 10 questions she has posed
3. Make up 10 new questions
4. Nominate 7 fellow bloggers (I went overboard)
5. Put the Sisterhood Award logo on your blog
I will try to answer Marian's questions as best I can:
1. What makes you get up every day and want to have a blog? As I mentioned before, I don't blog for a living; I get up every morning at 5:00 a.m. and commute into the big city to regular 9-5 job. I originally started my blog after I successfully planned three trips to Europe with my sister (hence my moniker). I wanted to give travel advice and travel tips to the places I visited. I am also an avid photographer and art aficionado, so I began incorporating more and more photos of my travels and art museum visits into the blog. Simply put, it allows me to enjoy my three favorites things: travel. art. photography.
2. If you weren't blogging, would you still write? Honestly, no. I'm not a writer by profession.
3. At what point while doing your blog did you realize that blogging was something more than writing for yourself? I'm not sure I've reached that point. Of course, I hope many others are reading my blog, and I promote it through my Twitter, Facebook and Google+ pages. However, I don't have a job or household income that allows me to travel as much as I would like, so the blog makes me to feel like I'm still on that cruise ship even though I've been home for weeks.
4. If you couldn't write about travel, what would your new blog be about? Art. I actually have an art blog called Tutti i Capolavori. Please check it out.
5. What is your all-time favorite destination? This is a hard one, but it's probably Bruges for several reasons: 1) the chocolate; 2) the Flemish architecture; 3) the narrow alleyways to explore; 4) the picturesque canals; 5) the gorgeous churches; 6) the beer; 7) the lace.
Madame Dumon in her famous chocolate shop.
How can you not love the quaintness of Flemish architecture?
How fun is it to explore the narrow alleyways in Bruges?
The picturesque canals.
Several churches with resplendent stained glass like Sint-Jakobkerk.
Zot beer is a delicious beer even for a non-beer drinker like myself.
Belgian lace is a must-buy travel memento.
6. Do you have a favorite dining experience from your travels?
Eating a plate of spaghetti in the Piazza della Rotunda incredulous that I was eating in front of the Pantheon.
7. Best cup of coffee you ever had was where? I don't drink coffee.
8. Where are you off to next and why? In early December we will cruise on Jewel of the Seas. Two reasons: 1) The itinerary includes Aruba, and we have wanted to return there for several years; and 2) I've reached a point in my life where more travel is necessary. This cruise was a good bargain.
The Jewel of the Seas docked in Barbados along with our ship.
9. What one item is a must have in your travel bag? Simple: my Nikon D90 camera.
10. Do you have any special tips or tricks on social media that you'd like to share? I'm new to using Twitter and Instagram so I'm just learning myself. I'm very appreciative to any likes, follows, comments or retweets, so I started thanking everyone. I love Twitter because you really have to think to fit what you want to say in just 140 characters, so I think Twitter has improved my writing skills. Instagram has improved my photographic composition and ideas. Looking at others' social media sites for inspiration, but be yourself. Be different...on purpose.

1) Favorite U.S. city to visit.
2) Favorite non U.S city to visit.
3) Favorite city for food.
5) Favorite tourist attraction.
6) Favorite travel moment.
7) Where have you met the friendliest people?
8) Do you like to cruise?
9) Ever traveled somewhere and been disappointed?
10) What is the most important thing you have learned through your travels?
My nominees: So many good bloggers out there!
All of these women have worked very hard to establish themselves with their excellent writing and photographic skills and have many, many followers to show for it. I hope to emulate all of them with my hard work on my blog and social media sites. I'm honored to nominate all of them for this award. There are hundreds, if not thousands, of other blogs (on a myriad of subjects) that are award-worthy. I hope my nominees will pay-it-forward.
A Great Europe Trip Planner
All photos were taken by me. Unauthorized use is prohibited.